Kusuma has lived at COF for the past ten years. She lost both her parents at a young age and was under the care of her grandfather who loved her very much and brought her to COF.
When she first arrived, she was weak, under nourished and had health and behavior issues. But she has grown to be a lovely young girl inside and out. She became a terrific role model for the young girls, whom she has helped nurture. She is an example of the potential all of our children have.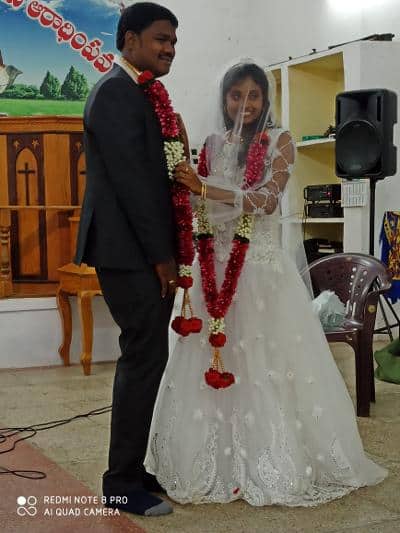 On August 14th we celebrated Kusama's marriage to a fine man – Sudhakar, a mechanical engineer who works in Bangalore. It was an arranged marriage, and Sudhakar always felt he should marry someone less fortunate to help her have a better life. When he saw Kusama, he knew she was the one.
It was a joy to prepare Kusama to be a bride. She looked gorgeous and I'm so proud that she has grown into a wonderful caring young woman

— Rosie Thandu
Her wedding was smaller than she had planned due to the pandemic, but it was a lovely and emotional day for all who were able to celebrate with her. She was a lovely bride.
We wish her all the best as she embarks on a new journey – first time on a plane, first time living in a big city, she is filled with gratitude towards God and all her COF supporters and families. Kusama and Sudhakar are very happy and excited about their life ahead.