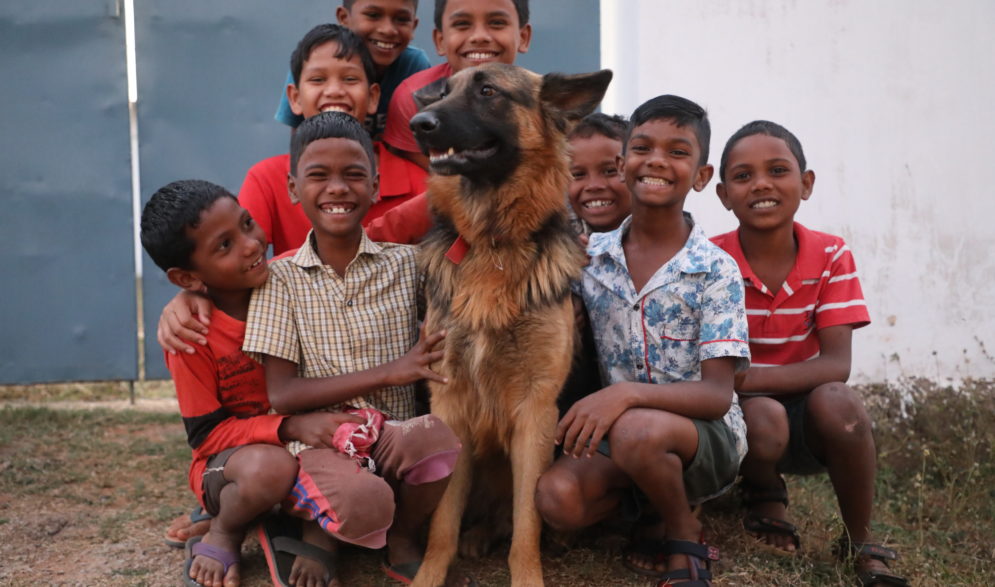 "Stylie, just wait…. Oh… wait" everyone says to Stylie at COF when trying to get pictures or videos. Maybe Stylie is thinking, "I wanna to be there with everyone". Stylie is one of our four lovable dogs and he loves to be in every picture.
The dogs missed the children during the pandemic
As it is said, 'A dog is a man's best friend' here at COF we have Snoopy, Scooby, Sparky and Stylie. They are full of life and they put a smile on everyone's face. When the pandemic hit India, all our kids were sent to their home communities, leaving Anand and Rosie alone. The dogs kept them company and helped them to adjust to the absence of kids. Returning to the home after sheltering for COVID, the kids were happy to be home and the dogs could hardly hold their excitement.
Each dog has its own personality
Snoopy is usually very calm and peaceful, Scooby is a little shy, Stylie is always in the mood to play and Sparky is full of sass. These dogs are part of the COF family and kids love them. The kids enjoy playing with the dogs and bathing them, though Snoopy and Sparky can be tough to wash and keep clean. They play and play, getting dirty again in no time. The kids like bathing them, making them shiny white again. Our shy dog is Scooby, he is easy to handle, he loves being with lots of children. Scooby is unlike any dog here. He stays by my side and listens to everything I say. I am connected to Scooby." says Snehalatha.
I love Sparky because I've grown along with him. He gets angry and jealous quickly with others but shares a loving bond with me

— Anusha
Everyone pitches in to care for the dogs
Snehalatha, Anusha and Sravani take care of the dogs. They wash them and play with them. Sparky gets dirty quickly, so bathing is a constant task. Once the bath is completed, Sparky walks in its usual glory. Feeding and walking the dogs are popular chores. The dogs are adorable and loved by everyone. "It is hard to choose a favorite dog. If I am in trouble all the dogs will sure come running to protect me. The love and affection these dogs show to me and everyone here at COF is priceless. I love all of them" says Sravani.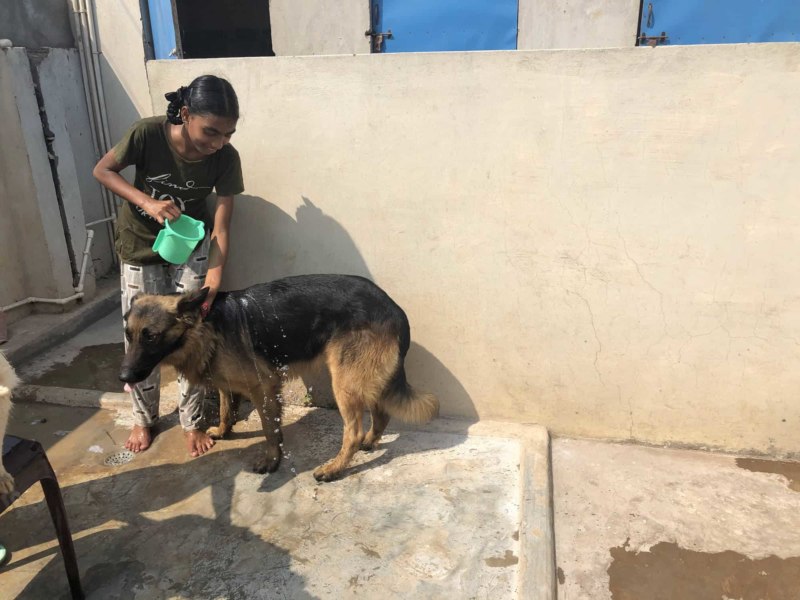 Our dogs and our children share responsibilities
Our dogs protect COF and teach the kids to be responsible and loving towards animals. They teach how to welcome strangers and at the same time make sure that the kids are protected. Everyone at COF is attached to the dogs and cares for them. They brighten up every day in COF. Dogs aren't the only animals at our home we have geese and chickens too, more about them another time!